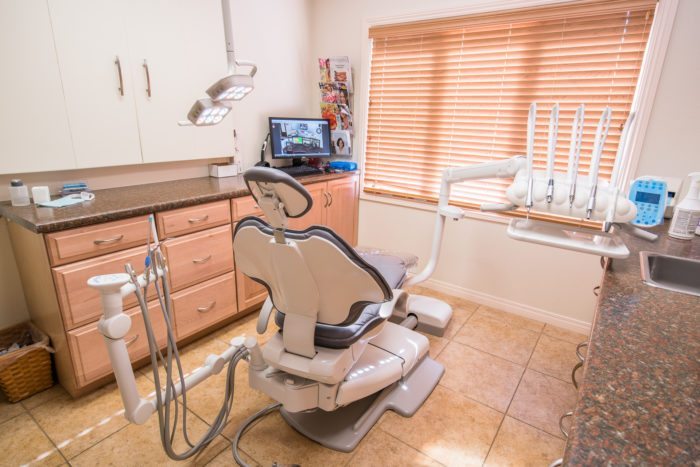 Skyline Family Dentistry offers comprehensive dental services that address a full gamut of functional, restorative and cosmetic oral health issues. Our dental practice uses Bioesthetic dentistry principles, providing a more holistic approach to restoring function and aesthetics to your smile.
From routine dental health checkups to full smile makeovers and placing dental implants, Bishop dentist Dr. Garbiel Overholtzer offers comprehensive, personalized dentistry under one roof for patients from many local communities.
COMPREHENSIVE DENTAL CARE
At Skyline Family Dentistry your dental care is tailored to address your unique dental health and cosmetic concerns. Dr. Overholtzer conducts a thorough analysis of the bite and alignment of the jaw in addition to an overall oral health screening for common dental concerns, gum disease and signs of oral cancer. Using digital diagnostic x-rays and technology Dr. Overholtzer will help you build a treatment plan that will address any underlying functional concerns and enhance both the comfort and appearance of your smile.
Smile Maintenance
Preserving your natural smile is ideal for enjoying lifelong oral health. Biannual dental exams and good at home oral hygiene help maintain the health and stability of your oral system. Healthy teeth and gums and a properly aligned bite not only boost your confidence in your appearance but can also protect patients against oral and systemic diseases. Our Bishop area dentist office offers general dental services tailored to treat common dental concerns that affect the health of the teeth and gums.
Aesthetic Enhancements
Feeling confident in the appearance of your smile is important and can affect how you interact with others in both social and professional settings. Dr. Overholtzer takes a functional approach when addressing cosmetic concerns allowing for a more stable, longer lasting result. Prior to treating cosmetic concerns, Dr. Overholtzer analyzes the entire chewing system to screen for underlying dental problems that could be causing cosmetic blemishes. A uniquely tailored cosmetic treatment plan will combine restorative and cosmetic services to achieve the healthy, beautiful smile you desire.
Restorative BioEsthetic Care 
Patients with underlying functional bite or alignment issues may experience chronic discomfort or feel embarrassed by their smile. Dr. Overholtzer practices Bioesthetic dentistry, addressing the full chewing system for optimal and stable results. Dr. Overholtzer's holistic approach to restorative dentistry helps patients avoid the need to visit additional specialists. We offer full-service dental implants, advanced for TMJ disorders with MAGO therapy and personalized care to restore gum health after periodontal disease.
REQUEST A CONSULTATION
At Skyline Family Dentistry, our dental care team provides comprehensive dental services tailored to your unique needs. We offer one-on-one consultations, patient education and high-quality dental care. Dr. Overholtzer welcomes new patients from Bishop, Mammoth, Round Valley, Big Pine and surrounding communities. To schedule your oral wellness consultation contact our Bishop, CA dentist office by fill out our online form.
Follow us to see more Smile Transformations
Schedule Your Dream SMILE
Office Hours
Monday: 8am – 5pm
Tuesday: 8am – 5pm
Wednesday: 8am – 5pm
Thursday: 8 am – 5pm
Friday: Closed
Saturday: Closed
Sunday: Closed