Tooth decay is a growing health epidemic affecting both children and adults. Dental fillings are the most conservative treatment option for restoring a decayed or damaged tooth. The fillings restore the structure of the tooth and seal out future decay. Dr. Overholtzer will work with you to choose the type of filling that is most suitable for your oral health needs and cosmetic goals.
A comprehensive oral health exam and digital x-rays will allow Dr. Overholtzer to determine which treatment option will best preserve your natural tooth. Treatment for tooth decay may vary depending on the extent of the decay or damage and the location of the tooth. For more advanced decay, an inlay, onlay or crown may be recommended to help stabilize the tooth structure and provide a durable, aesthetically pleasing result.

HIGH-QUALITY DENTAL FILLINGS
Cosmetic porcelain dental fillings can be colored to match the decayed tooth. White fillings provide an end result that is both aesthetically seamless and highly durable.  Patients with existing metal dental fillings may consider having their fillings replaced with white ceramic fillings for a more natural look.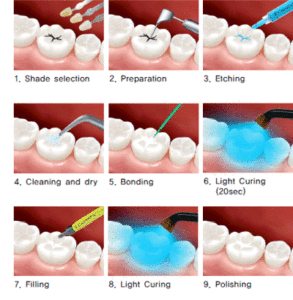 DENTAL FILLINGS WHAT TO EXPECT
A routine procedure, dental fillings are completed in a single visit. A local anesthetic is used to numb the area and keep you comfortable during treatment. Dr. Overholtzer will gently remove any decayed tissue from the infected tooth. The tooth will be thoroughly cleaned and prepared for the filling.
The filling material is injected into the tooth. The hardening agent is activated by applying a special blue light to the filling. The filling will cement in place for a lasting and seamless bond."
Follow us to see more Smile Transformations
Schedule Your Dream SMILE
Office Hours
Monday: 8am – 5pm
Tuesday: 8am – 5pm
Wednesday: 8am – 5pm
Thursday: 8 am – 5pm
Friday: Closed
Saturday: Closed
Sunday: Closed