Are you unhappy with the appearance of your smile?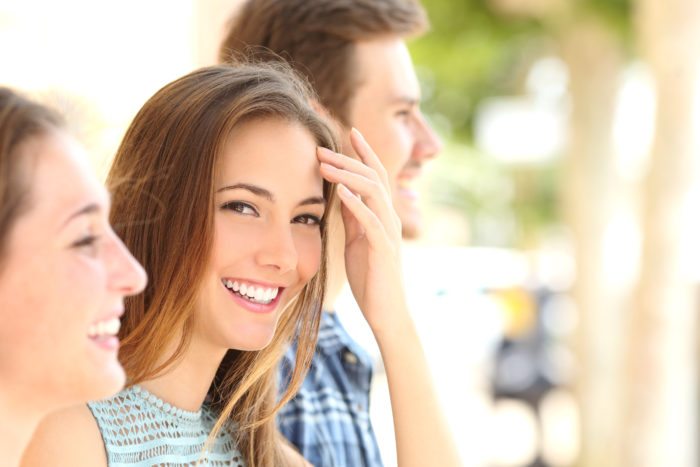 A discolored smile or a misshapen tooth can cause you to hide your smile. Embarrassing, and often a sign of a more complex dental concern, addressing cosmetic concerns can not only boost your self-confidence, it may help improve your oral health.
At Skyline Family Dentistry we provide patients with comprehensive cosmetic consultations and treatment plans designed to address their underlying functional issues. Dr. Overholtzer looks at the alignment of the bite, health of the gums and function of the jaw joint to determine the cause of cosmetic concerns. Addressing any foundational issues helps to support lasting results and a naturally beautiful smile.
A bioesthetic approach to cosmetic dentistry helps you build a stable, healthy, and gorgeous smile.
---
SOLUTIONS FOR COSMETIC CONCERNS
Chipped, Cracked, Broken Teeth
Chips or cracks in teeth are considered unattractive, detracting from the aesthetic of the smile. Chips or damage to the enamel of the tooth can lead to a tooth infection, and cause permanent damage to the structure of the tooth. Many patients who have damaged or broken teeth are also experiencing chewing disharmony. Wearing down of the teeth or jaw a lifetime can cause damage to the teeth breaking or chipping the enamel. In order to fully restore teeth, it is essential to address the underlying occasional misalignment or repair the jaw.
Gaps, Crooked, Misshapen Teeth
Gaps between teeth or crooked or misshapen teeth are often viewed as unattractive. There are cosmetic solutions for creating a more seamless smile while addressing the functional issues causing crooked or gapped teeth. For patients with advanced oclussion issues, orthodontic treatment may be required. For minor gaps or to reshape an oddly shaped tooth, dental bonding or custom dental veneers can be used to create a more seamless, beautiful smile. Using CEREC technology combined with Dr. Overholtzer's natural eye for facial aesthetics, patients enjoy quick, highly durable and natural looking results.
Stained, Yellow, Discolored Teeth 
As patient's age tooth discoloration is a normal occurrence. Yellow or discolored teeth can prematurely age the appearance of your entire face. Bonding, veneers or take home tooth whitening kits are available options for whitening and brightening your smile. If you wish you smile was more luminous, ask Dr. Overholtzer about your teeth whitening options so you may enjoy a more youthful looking smile.
REQUEST A COSMETIC CONSULTATION
Enjoy a brighter, healthier, more beautiful smile. Contact Skyline Family Dentistry to learn more about our consultative cosmetic dental services. We provide thorough oral health exams and work with our patients to create tailored treatment plans that allow for lasting, natural looking results. Request a cosmetic consultation consultation using our online form. 
Follow us to see more Smile Transformations
Schedule Your Dream SMILE
Office Hours
Monday: 8am – 5pm
Tuesday: 8am – 5pm
Wednesday: 8am – 5pm
Thursday: 8 am – 5pm
Friday: Closed
Saturday: Closed
Sunday: Closed